02 Nov

Eat More Vegetables to Boost your Energy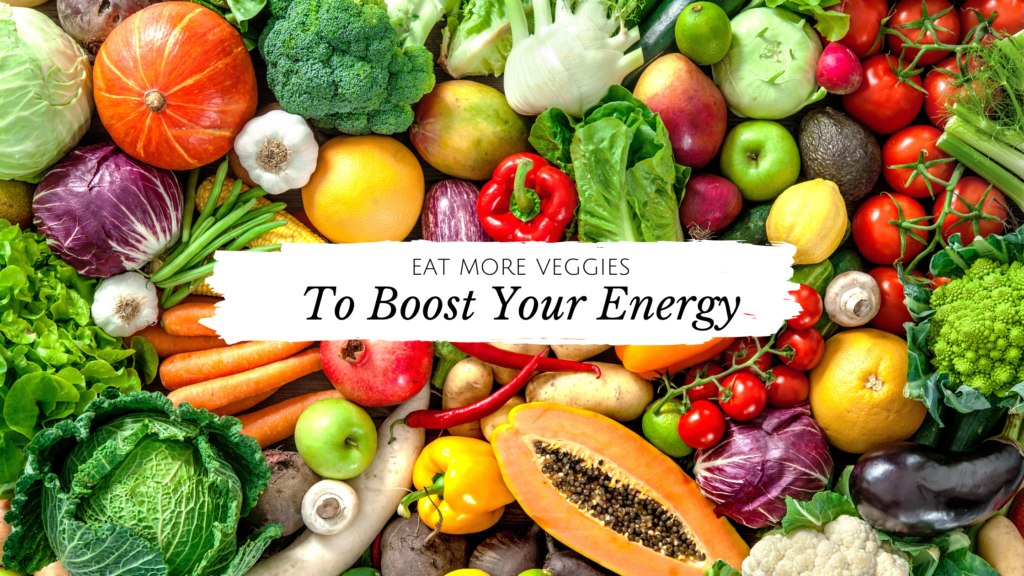 How many servings of vegetables do you eat each day?
According to the Centers for Disease Control and Prevention, only one in ten adults gets the recommended amount of vegetables, which is the equivalent of 2-3 cups of vegetables for women and slightly higher for men. In case you're wondering, two cups of leafy greens is the equivalent of 1 cup of veggies.
If you struggle to get your daily dosage, here are a few simple ways to add more veggies every day:
Add pureed veggies into recipes
Adding pureed vegetables into sauces, soups and stews are an easy way to sneak extra nutrients into your diet. Carrots, pumpkin, spinach and tomatoes are all great options which can add a boost of flavor to any dish. Believe it or not, pumpkin (or carrots) pureed, are a great addition to chili. If you're worried about changing the flavor too much, puree a small amount and gradually increase the amount until you reach your desired level.
Put on top
Get creative with your toppings! Add shredded carrots and kale to omelets or roasted Brussels sprouts to your salad. You'll find the dishes are move filling and satisfying when packed with healthy toppings, which may even have you eating less of the not so healthy stuff! And, you'll get the nutritional benefits of eating more vegetables, and think beyond the salad bowl.
Include in smoothies
Smoothies are a great way to add more vegetables to your diet because they are quick and easy to make and can be customized to your taste. Pair your veggies with other healthy ingredients such as plain Greek or non-dairy yogurt without added sugar, ground flaxseed, or almond milk to boost the nutrient level of your smoothie. Be sure to fill your smoothie with healthy fat, protein, and fiber. If you add fruit, use a small handful to keep your nutrients balanced and strive for the 3:1 ratio of veggies to fruits. 
Use to replace snack foods
Rather than snacking on potato chips, why not make roasted kale chips? They are super easy to make in your air fryer and are ready in no time. Or, instead of eating crackers with cheese, try celery or cut up peppers with hummus or guacamole. There are plenty of recipes for veggie-based snacks, such as carrot chips, red pepper humus, and zucchini chips. Here is a recipe shared in our Simple Healthy Recipes Facebook Group for squash chips that are a fan favorite. (If you're not already in the recipes group, please join!) The next time you're looking for a snack, and you check in with yourself and acknowledge it is truly physical hunger – not emotional hunger, reach for some veggies instead!
It may take a little extra planning to include more veggies in your daily routine, but it's a great way to help ensure you and your family get the nutrients you need. 
If you struggle to get in your veggies, here is simple, done-for-you solution:
The 3-Day Reset Program
Are your sugar cravings out of control after too much Halloween candy?

Try this proven, quick and effective way to jumpstart your healthy eating habits, while eating delicious soups made with seasonal vegetables. 

The Reset has helped many people reduce sugar cravings in THREE short days!

The 3-Day Reset is a transformational program where you focus on yourself for three days and tune into your hunger levels and eating habits.
Your meals are provided via soups which are free of top allergens, packed with nutrient rich seasonal veggies, chef created, and delicious!
You have support throughout the program, including a free call with me to discuss your questions and challenges. 

Get back on track if leftover Halloween candy has taken control of your life!

Click below for more details and to register for the November 14th Program. Registration closes Tuesday, 11/8.
Here's to using veggies to get the nutrients you and your family need!