16 Dec

Simple Tips to Stay Healthy During the Holidays
At this time of year, you have so many things to do and so many people to see, that it can be easy to let your health fall to the back of your priority list.
However, despite the chaos and hectic pace of the holiday season, here are some simple strategies to stay healthy, despite your crazy schedule.
Eat lots of colorful vegetables and fruits. It's important to eat the rainbow of fruits and vegetables as the different colors provide different nutrients to keep your immune system strong. There are plenty of seasonal options during the winter months apples, pomegranates, Brussels sprouts, leafy greens such as kale and chard, citrus fruits like lemons and limes, and cruciferous vegetables such as broccoli and cabbage. A simple way to get more nutrients is to add another serving of vegetables to each meal and strive for at least five servings each day to support your immune system and your digestion.
Prioritize protein. Getting the right amount of protein is key to maintaining a strong immune system. Whether you're eating meat, tofu, legumes, nuts, or another source of whole food protein, your body needs this essential nutrient to function well. Protein helps to build and maintain strong muscles and fuel vital organ functions. Additionally, it helps to strengthen your immune system by providing specific amino acids that are directly responsible for fighting infection and illness.
Hydrate your body. Water acts as a natural cleanser, flushing toxins and waste products out of your body and keeps your internal systems functioning optimally. Staying well-hydrated offers protection against various infections and illnesses. And, being well hydrated will lead to better sleep, mood and mental clarity.
Exercise regularly. When you exercise regularly, your body produces more white blood cells, which are critical drivers of immune function. In addition, exercise can help strengthen your muscles, your lungs and your heart, which help you to fight off any illnesses that come your way.
Get quality sleep. Not only does sleep give you the energy you need to function during the day, but it also helps to maintain your mental clarity and focus. While you sleep, your body release cytokines, small proteins that help to fight off infections. Lack of sleep can make you more susceptible to common infections, so prioritize sleep every night to help protect yourself from illness and to leave you feeling alert and energized.
Even during busy times, there are simple things you can do to support your immune system. By eating well, exercising, drinking plenty of water, and getting enough sleep, you can ensure your body has what it needs to function properly despite a hectic season.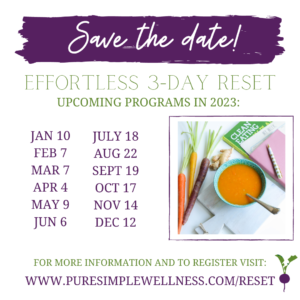 The 3-Day Reset Program
In order to help you stay consistent with your healthy habits throughout the year, the 3-Day Soup Reset program will be moving to a new model and some other exciting changes are underway as well. More details to come soon.
If you are interested in signing up for January, registration is now open. Why wait? Book now to jumpstart to your healthy habits early in the new year!
In January, we will be collaborating with two female chefs who share a similar vision and mission as Pure Simple Wellness. This will provide more options for your family while you do the reset program.
Here's to a fun, joyous and peaceful Holiday Season!
Yours in wellness, Elizabeth