08 Aug

Sports Drinks: Do we need them?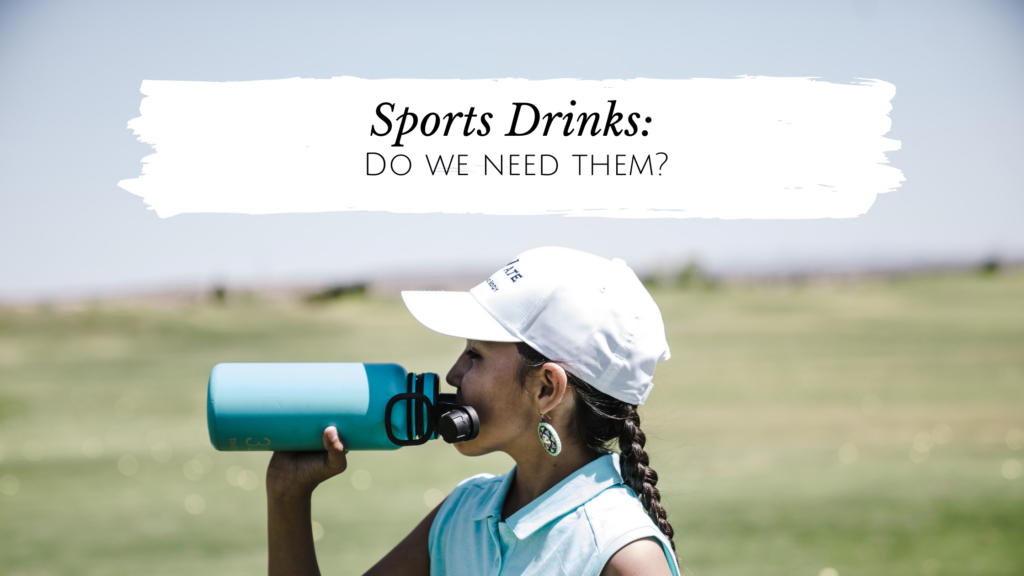 Given the crazy heat over the past few weeks, do you find yourself reaching for more water?
Or have the marketers convinced you that you 'need' sports drinks like Gatorade and Powerade, to sufficiently hydrate yourself and to maintain peak performance.
Millions of dollars are spent reinforcing this message. But, is it true? More importantly – are they healthy for you? Research shows that after 1 hour of intense training, athletes can deplete their electrolyte and glycogen stores. However, for the average individual running 3-5 miles or doing a 45 minute spin class, the 100+ calorie, sugar laden beverage, may negatively impact the calorie burn you just achieved during your workout! And, for those doing even less exercise……
Read the label
The ingredient list in a sports drink may cause concern. These are pulled directly from their websites:
Gatorade Thirst Quencher Orange: Water, Sugar, Citric Acid, Salt, Natural Flavor, Potassium Chloride, Magnesium Oxide, Gum Arabic, Purified Stevia Leaf Extract, Sucrose Acetate Isobutyrate, Glycerol Ester Of Rosin, Yellow 6.
Orange Flavored Powerade: Water, High Fructose Corn Syrup, Less than 0.5% of: Citric Acid, Electrolytes (Salt, Mono-potassium Phosphate, Magnesium and Calcium Chlorides), Gum Acacia, Natural Flavors, Glycerol Ester Of Rosin, Yellow 5 and 6, Vitamins B3, B6, B12 (Niacinamide, Pyridoxine Hydrochloride, Cyanocobalamin), Ascorbic Acid (to protect taste), Calcium Disodium EDTA (to protect color).
There are items on the ingredient list that are generally best to be avoided: sugar, high fructose corn syrup, natural flavors, artificial colors, synthetic additives, and preservatives.
Both of these drinks have over 20 grams of sugar per 12 ounces and 35 grams (8.75 teaspoons) in a 20 ounce bottle.
Think about how many of those you and/or your kids consume on a hot day?
Then, think about adding 8 teaspoons of sugar in your coffee or tea!! You would probably spit it out it would taste so sweet!
To put this into perspective: The latest World Health Organization recommendation is no more than 6 teaspoons of added sugar per day for adults – and the 20 ounce Gatorade or Powerade exceeds that by more than 30%!
H2O
The good news is the first ingredient on both lists is water – which is necessary for hydration. The best way to avoid dehydration from exercise is to drink 4-8 ounces of water before exercising, drink 4 ounces of water every 15 minutes during exercise and drink 16-24 ounces of water after exercise for each pound lost.
For a workout less than 1 hour, plain water is probably sufficient – or you can add a pinch of Himalayan salt or sea salt. If you feel the need for a pick-me-up, another option is a solid food – like raisins or bananas – which also regulate electrolytes and provide an energy boost. During an intense workout, less blood flows to the stomach which can make digestion more difficult, so a liquid pick-me-up may be better.
Make it healthier
If you prefer to avoid the added sugar, colors, synthetic additives and preservatives found in commercial sports drinks, why not make your own? A favorite option is coconut water, sea salt and some fruit to make my own tasty and effective sports drink. Click here for the recipe. Another option is to make your own lemonade with coconut water. Click here for recipe. Both of these drinks replenish your electrolyte and glycogen stores without added sugar or artificial additives, contain antioxidants and phytonutrients as well as natural (vs. synthetic) vitamins and minerals from the coconut water (potassium, sodium and magnesium) and fruit juice, like vitamins B & C, and magnesium. (1)
A study published in the Journal of Physiological Anthropology and Applied Human Science, showed that sodium enriched coconut water was just as effective as a commercial sports drink for total body re-hydration. Believe it or not, a 14 ounce serving of coconut water has as much potassium as 2 bananas!
The next time you reach for a sports drink, think about whether or not you 'need' it or if regular water, or water with a pinch of Himalayan sea salt will suffice. If not, try one of the homemade versions of electrolyte beverages provided above!
Need a Reset after a fun-filled summer?
If you've been having a bit too much fun during vacation and summer barbeques and need help getting back to your healthy habits, join the next 3-Day Reset Program starting on August 22nd!
For 3 days, no worrying about what to plan, prep or cook.
Instead of eating the leftovers from your child's plate or ordering in takeout, have your food prepared, portioned and ready to eat. It's a simple way to reset your healthy habits and recover from summer fun, which might include a bit too much eating and drinking!
Click here for more information about the 3-Day Reset Program.