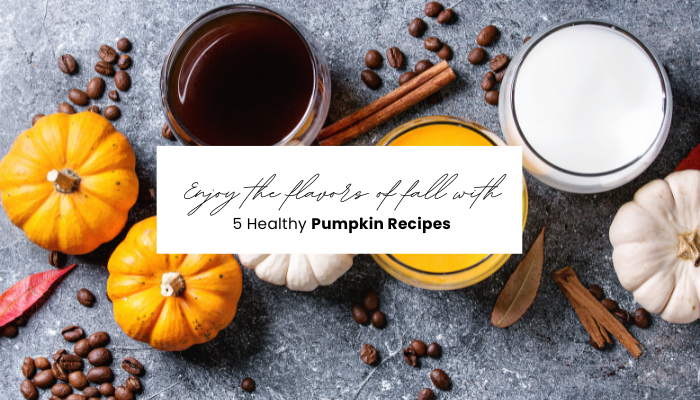 03 Oct

Enjoy the Flavors of Fall with 5 Healthy Pumpkin Recipes

That crisp chill in the air, means it's time for everything pumpkin — from lattes and pies to candles and decorations. It seems like there's something pumpkin flavored or scented everywhere you turn. While it's easy to get caught up in all the sugary sweets that come with the season, there are plenty of ways to enjoy pumpkin with some added health benefits.

Here are five healthy pumpkin recipes that will help you embrace autumn:

Pumpkin Spice Quinoa Breakfast Bowl

Start your day off right with this nutrient packed breakfast bowl. Combine precooked, creamy quinoa with almond milk, cinnamon, nutmeg, and pumpkin puree for a satisfying and healthy meal that will keep you full until lunchtime. Top it with some chopped pecans, hemp seeds, or a drizzle of maple syrup for a little added sweetness.

Pumpkin Chai Latte

Why ingest all that sugar from the local coffee shop, when you can make a healthy pumpkin chai latte at home? Blend real pumpkin puree with almond milk and pumpkin pie spice using an Aerolatte Milk Frother and add it to your unsweetened cup of chai, for a creamy, delicious pumpkin chai latte that is guilt free!

Creamy Roasted Pumpkin Soup

Fall is the perfect time for soothing soups and this one is super simple. Blend vegetable (or bone) broth and canned pumpkin with cinnamon, ground cloves, cayenne pepper, nutmeg, and black pepper. Use an immersion blender to make this into a smooth soup. Adding some full fat coconut milk will add a bit of sweetness and take this to the next level!

Roasted Pumpkin Seeds

What would fall be without roasted pumpkin seeds? This recipe is super simple — all you need is some raw pumpkin seeds (be sure to remove all the stringy pulp first), olive oil, salt, and pepper. Roast them in a preheated oven or toaster oven until they're golden brown and crispy. Enjoy as a healthy snack or sprinkle them on top of salads or soups for a little extra flavor and crunch.

Pumpkin Turkey Chili

Chili is the perfect comfort food for cool autumn days. This recipe calls for lean ground turkey, black beans, diced tomatoes, and pumpkin puree. The pumpkin puree helps to thicken the chili as well as adding a delicious flavor boost. For a vegan version, add your favorite plant-based protein.

Enjoy the health benefits of pumpkin this fall in these delicious and nutritious meals.

Upcoming Events

The 3-Day Reset is a transformational program where you focus on what you are eating, how you are eating, when you are eating and how food makes you feel. And, the positive results go way beyond three days.
No fuss, no mess, and no stressing about what to eat. For three days, you enjoy delicious, chef-prepared vegan soups, free of top allergens, packed with nutrient rich seasonal veggies. There are also suggested snacks to keep you satiated, if needed.
You are supported before, during, and after the program, via email and a private Facebook group. And, you earn a complimentary 1:1 call with me to discuss your specific health and wellness challenges.
Click here for more details and to register for the next Program.
Can't wait to see you in the Reset Program!
Disclosure: Some of the links above are affiliate links. This means that, at zero cost to you, I will earn an affiliate commission if you click through the link and finalize a purchase.