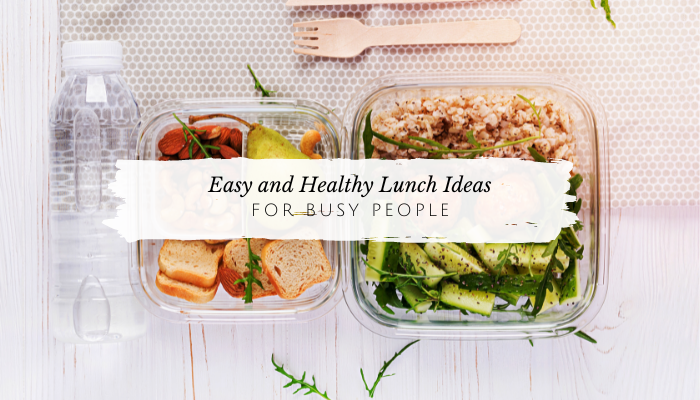 07 Jun

Easy and Healthy Lunch Ideas for Busy People

As a busy woman, you know how hard it can be to squeeze in a nutritious lunch break. With so many of us on the go, reaching for fast, pre-packaged options that are convenient but not necessarily good for our health can be tempting. But plenty of healthy and delicious lunch options can easily be taken on the go. Here are some ideas for creating healthy lunches you can take wherever your busy life leads you.

Mason jar salads are a great way to prep and have a healthy lunch ready when needed. All you need is a mason jar and some fresh ingredients. Start by packing your salad in layers—dressing at the bottom, followed by hardier vegetables such as carrots or broccoli florets, then add protein such as chicken or beans, followed by greens. When you're ready to eat it, turn the jar over into a bowl and enjoy. Check out this video on Instagram which walks you through the process!

Don't waste your money at Starbucks. Making your own protein boxes for lunch on the go is an easy and delicious way to ensure you get plenty of nutrition while out of the home. With a few simple ingredients, you can create a balanced meal full of protein that will fuel you through the day. The sky's the limit when it comes to what type of food you want in your lunch box – get creative and add an array of fruits, vegetables, nuts, seeds, hummus, or any other nutritious items. Not only will these boxes taste great, but they can be prepared in advance, so all that's left to do is grab and go.

Leftovers are the key to success in our house. To reduce the amount of time you spend cooking, double the portion sizes so have leftovers for a lunch or two. If you don't want to have same meal twice, double specific ingredients and change it up with herbs, spices or sauces. For example, grilled chicken from the night before is fantastic on a big salad. Brown rice or quinoa can be used as a base for a buddha bowl. Looking for more ways to spruce up your leftovers? Check out this blog post.

Sushi bowls are another great option for people on the go who want something healthy and have a little time to prepare meals in advance. All you need is cooked sushi-grade fish (or tofu if preferred) cut into cubes or strips; cooked brown rice; some nori sheets cut into strips; avocado slices; edamame beans; sesame seeds; and soy sauce or tamari for added flavor. Mix all ingredients in a bowl and enjoy.

Eating healthy doesn't have to be complicated when you're always on the go. With these quick and easy options, you can have a delicious lunch ready in no time. For more ideas on how to spruce up your lunch routine and feel energized for the second half of the day click here.

If you need more meal ideas and recipes, join in the conversation with our community on Facebook in our Simple Healthy Recipe Facebook Group!