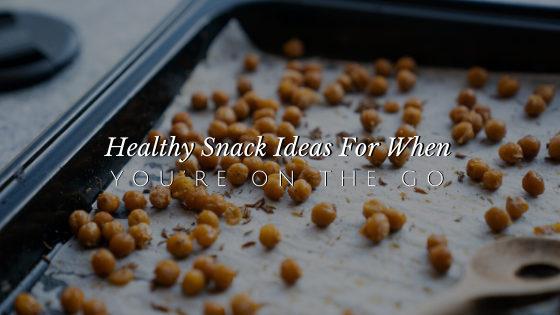 15 Feb

Healthy Snacks to Take on the Go

Planning ahead is one of the keys to success. Having healthy snacks available will help you avoid high-sugar, processed snacks that will leave you feeling unsatisfied and bloated. Here are eight healthy snack ideas that will satisfy you and hold you over until your next meal. Ideally, plan your snacks and meals to include protein, healthy fat and fiber, to keep you satiated longer.

Apple slices with peanut butter
Apples are high in fiber and water content, so they will fill you up without being too calorically dense. Use organic apples, since they are on the 'dirty dozen list' as they contain a high amount of pesticides, and don't peel the skin since it contains the majority of the fiber and vitamins. Add peanut butter for healthy fat and a bit of protein to keep you full and satisfied for longer.

Chia pudding
Chia seeds are an excellent sources of omega-3 fatty acids and fiber. These unsaturated fats play many vital roles in hormone production, cognitive functioning, and mood and energy levels. Mix chia seeds in almond or coconut milk and let sit at least 5-10 minutes until they expand. Or prepare the night before and add fresh berries in the morning before you head out the door.

Homemade granola
Store-bought granola can be expensive and usually contains a high amount of added sugar. To make your own granola, roast some gluten-free oats in the oven with some honey (or your choice of natural sweetener) and add dried cranberries, raisins, nuts, seeds, and dark chocolate chunks.

Veggies and hummus
If you prefer savory snacks, cut up vegetables like bell peppers, carrots, celery, broccoli, and cucumbers, are great with hummus or bean dip. I've been experimenting lately with homemade hummus, and this rosemary bean dip has been a big hit. Served with veggies, it's a great low calorie, healthy snack full of vitamins, minerals as well as fiber and protein.

Yogurt and berries
Plain Greek yogurt is a good source of protein when hunger hits. Choose a yogurt with fat to keep you satiated. Add some berries or a handful of homemade granola for an extra crunch. If you're dairy free, choose a no-sugar added coconut yogurt instead.

Roasted chickpeas
Roasted, seasoned chickpeas provide a much healthier alternative to chips. Buying them premade can be costly, but making them at home is simple and economical. Place some drained, canned chickpeas on a sheet pan and lightly coat with olive or avocado oil. Cook for about 30 minutes at 350F. Once cooked, season them with your favorite seasonings – such as smoked paprika, garlic, or simple salt. You'll be amazed at how delicious they taste!

Smoothie
Add some spinach, a handful of berries or a half of banana to your favorite clean protein powder and blend with water for a simple and delicious afternoon snack. For a bit more substantial snack, blend with half water and half coconut milk.

Hard-boiled eggs
Hard-boiled eggs are a quick and easy snack. They have both protein and healthy fats. They keep you satiated with their high protein, high fat, and low carb macronutrient breakdown. Grab a handful of raw veggies for some added fiber.

What's your typical go-to snack when you're on the go?

If you're looking for some help to get your healthy eating on track, check out the Effortless 3-Day Reset Program. Clients have had amazing results to date. I'd love to support you!