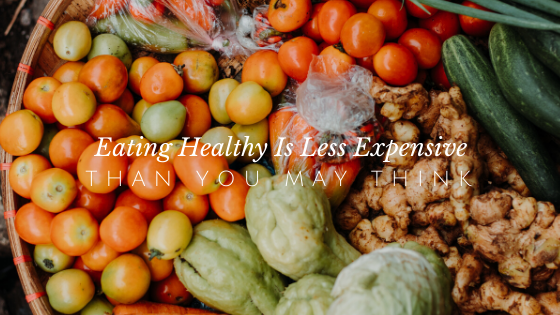 05 Feb

Healthy Doesn't have to be Expensive!

There are countless reasons for not eating healthy foods — a hectic day at work, no time to shop, not sure how to cook healthier meals, or the thought that healthy food is too expensive. With a few tweaks, healthy eating doesn't have to be difficult or expensive.

The US Department of Agriculture conducted a study to show how healthier food choices are not necessarily more expensive. In the study, they highlighted healthier foods like carrots and pinto beans are much less expensive per portion than ice cream and cakes.

Processed foods that are high in protein, saturated fat, added sugars, and sodium were more expensive than vegetables, fruit, and whole grains. Thus, it's a myth that all healthier foods are too expensive

There is no better time than right now to explore healthier options at your supermarket. No time? Order online. If you don't want to pay a delivery fee, many supermarkets offer a pick up option for no additional cost. Ordering online may even help you avoid impulse purchases for junk food.

Here are some additional tips for eating healthy on a budget:
Stock up on meat and fish
Grass-fed meats, pasture raised poultry and wild seafood will cost more. Plan your meals around the weekly specials and stock up when these items are on special and freeze for later use. Try thinking about meat as more of a 'condiment' rather than the main portion of your dinner plate.
Add beans and legumes
Beans and legumes are a good source of protein as well as fiber. There are so many incredible recipes for meatless meals, which can give your digestion a boost as well. Dried beans are very economical, and it only takes a bit of pre-planning to have them ready to add to your meals.
Buy fresh, local, and seasonal
Generally, produce that is fresh, in season, and local is more cost effective. Experiment with different fruits and vegetables to enhance the nutrients and antioxidants in your diet. Studies have shown fruits and colorful vegetables can improve your health and reduce your risk for expensive long-term illnesses.
Choose frozen
My freezer is always stocked with frozen fruits and vegetables. Many fruits and vegetables are flash frozen right after they are picked, so they lock in vital nutrients. They can contain more nutrients than produce that has been picked months before it ends up on your grocery shelves. Add frozen produce to smoothies, stews, soups or as side dishes, to create a meal in minutes when you're short on time.
Once you start making your own healthy meals, you'll see how easy and economical it can be to eat healthy at home. Need some inspiration for healthy and simple dinners? Check out these great suggestions from Nutrition Diet News. I'm thrilled to be one of the top 25 experts included in this expert roundup (see lucky #13!).  You can also join the free Healthy Recipe Facebook Group where we help motivate and inspire each other with simple healthy meals!
For even more tips on saving money while you are in the grocery store check this post: Eating Healthy on a Budget
If you need help navigating healthy eating, please send me an email at [email protected] to set up your free 20 Minute Free Strategy Session.