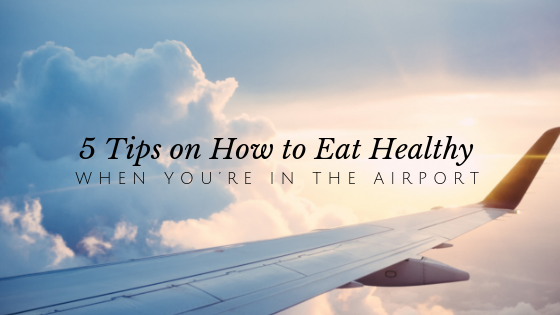 07 Aug

Eating Healthy at the Airport

Summer is in full swing — the airports are packed with eager travelers off to their summer destinations and the interstates are more crowded than usual. Due to the crowds, you're probably at the airport several hours before take-off to allow adequate time for check-in. With all the cutbacks on the airlines, you probably want to have a snack or meal before you hop on the plane.

Here are a few of my favorite tricks to have healthy options when you're on the road.

Pack healthy snacks in your carry on bag
Healthy snacks, like snap peas and mandarins are easy to pack and enjoy. Be sure you eat any fruit and vegetables before you land in another country, or they will likely be confiscated to avoid the spread of pests! Nuts and seeds are also a good choice, although it's useful to check with your airline as some may have restrictions due to nut allergies. Dried fruit without added sugar and individual packs of jerky or guacamole or hummus are other great snacking options. Strive to have protein, healthy fat and fiber in all snacks to keep you fueled until you reach your destination.

Indulge in dark chocolate
Often when you're delayed, you want something sweet to soothe your mood. A great option is a bar of dark chocolate. You can bring this in your carry on, or purchase it at the newsstand. Dark chocolate will satiate your sweet craving and also provide a good dose of antioxidants. Choose a bar that's 70% cocoa or greater for the most benefits, and the least sugar.

Refuel with a smoothie
Many airports have smoothie bars, which offer another healthy option. To avoid blood sugar spikes and keep you satiated longer, add greens and healthy fats (like nut butter or chia seeds) to your smoothie. If you're heading somewhere tropical, why not fuel your adventures with a pineapple, coconut smoothie?

Choose veggies and protein
Most convenience stores offer hard boiled eggs, spinach salads, roasted chicken or even hummus and pre-cut veggies. Sandwiches can be another healthy option with grilled chicken or veggies on multi-grain bread. Steer clear of mayo and creamy sauces and opt for mustard instead.

Stock up on protein bars
For those times when you'll don't have time to sit and eat, you're your own protein bars to keep you fueled. Some of my favorites are: Epic Bars, Rx Bars, Kind Bars (the 5 ingredient ones) and the latest Bone Broth Protein Bars. Strive to choose bars with less than 10 grams of sugar, 5+ grams of fiber and only a few ingredients.

I know when we were stuck at the Madrid airport for 2 days on our way home from Spain, my kids were actually happy that I planned ahead and had enough snacks to get us through the first day! You never know what weather delays can bring……

Where have you traveled this summer? I'd love to hear about your summer experiences and your favorite travel snacks. Hit reply and let me know what you've been up to.