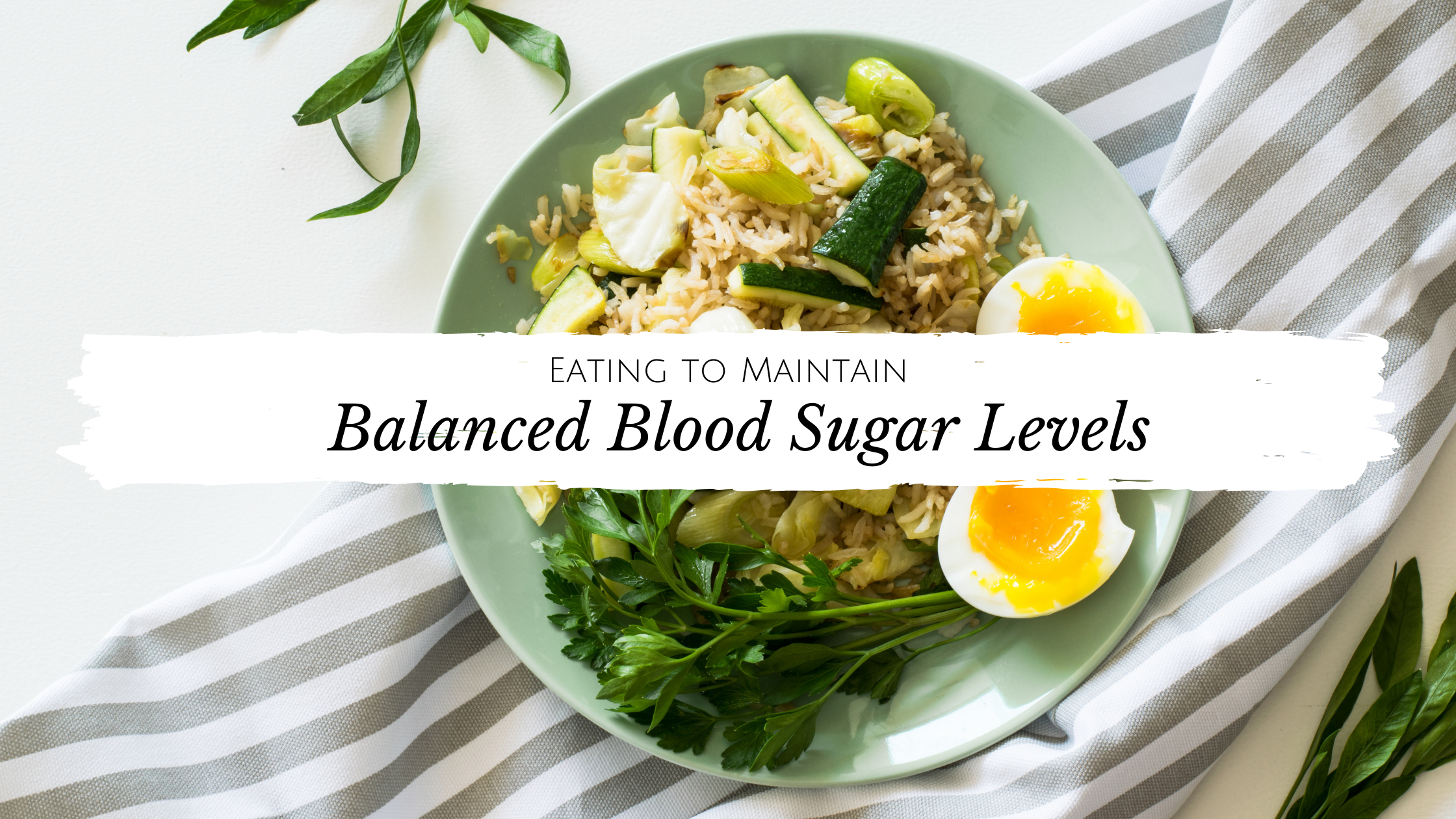 01 Nov

Eating to Maintain Balanced Blood Sugar Levels

What you eat can impact how you feel each and every day.

Your food choices impact your hormones, including your insulin levels. Insulin, the fat storage hormone, is secreted by your pancreas when you have a high level of sugar in your blood stream. A typical misconception is you only need to avoid sugar to avoid blood sugar issues. However, simple carbohydrates, like white rice, pasta, and bread, can also cause blood sugar spikes, since your body metabolizes them as sugar. Did you know that a cup of white rice is the equivalent to 11 teaspoons of sugar when it's metabolized in your body? (1) This is why you can often feel hungry an hour after eating a meal with a lot of white rice, starchy carbs or simple sugars. Unfortunately, the more your blood sugar rises, the more your energy will be unstable and your cravings for sugar and starchy carbs will increase.

The best way to combat this is to make sure you are not eating starchy carbs or sugars alone. Instead, choose complex carbohydrates like basmati rice or legumes, and pair them with proteins and low carb veggies, like leafy greens, broccoli, Brussels sprouts, string beans and cauliflower, and include a good source of protein like pastured chicken or eggs, wild fish, grass fed beef or fermented tofu or tempeh. Instead of drinking a glass of apple juice, eat an apple with a handful or nuts or seeds. Pairing your complex carbohydrates with proteins and non-starchy vegetables will help your body breakdown carbohydrates more slowly, keeping you more satisfied and less likely to experience cravings.

If you struggle with cravings for sugary or starchy foods, join the FREE 5 Day Program to help you Curb your Sugar Cravings.
Join us starting November 8th so you can experience:
Increased energy
More restful sleep
Reduced brain fog
More control of your eating habits
Less mood swings
After the program you will be equipped with:
Strategies to curb your sugar cravings
Healthier treats and recipes to soothe your sugar cravings
More information about your sugar cravings and an understanding of the root cause
Knowledge of the sugar cycle and how to avoid it
Don't wait for the new year to start making small changes for long-term health. Start now and navigate the holidays with ease!
Claim your spot in this FREE program and Curb Your Sugar Cravings!
If you are local to Summit, NJ –> Head straight from the 5-Day Curb Cravings Program to 3 Days of healthy, prepared food!
Want to jumpstart your healthy eating with prepared meals and continue to avoid starchy carbs and sugar for 3 more days?  Join the November Effortless 3-Day Reset!
Spend three days focused on yourself – being mindful of your food choices which can help transform your relationship with food.
Get results like Mallika and countless others who have gone through this simple and manageable program.  Feel empowered in your food choices, lose some belly bloat, and reduce your sugar and junk food cravings BEFORE Thanksgiving.
Don't miss the next Effortless 3-Day RESET! Registration for the November Reset closes on Tuesday, Nov 9th so don't delay!