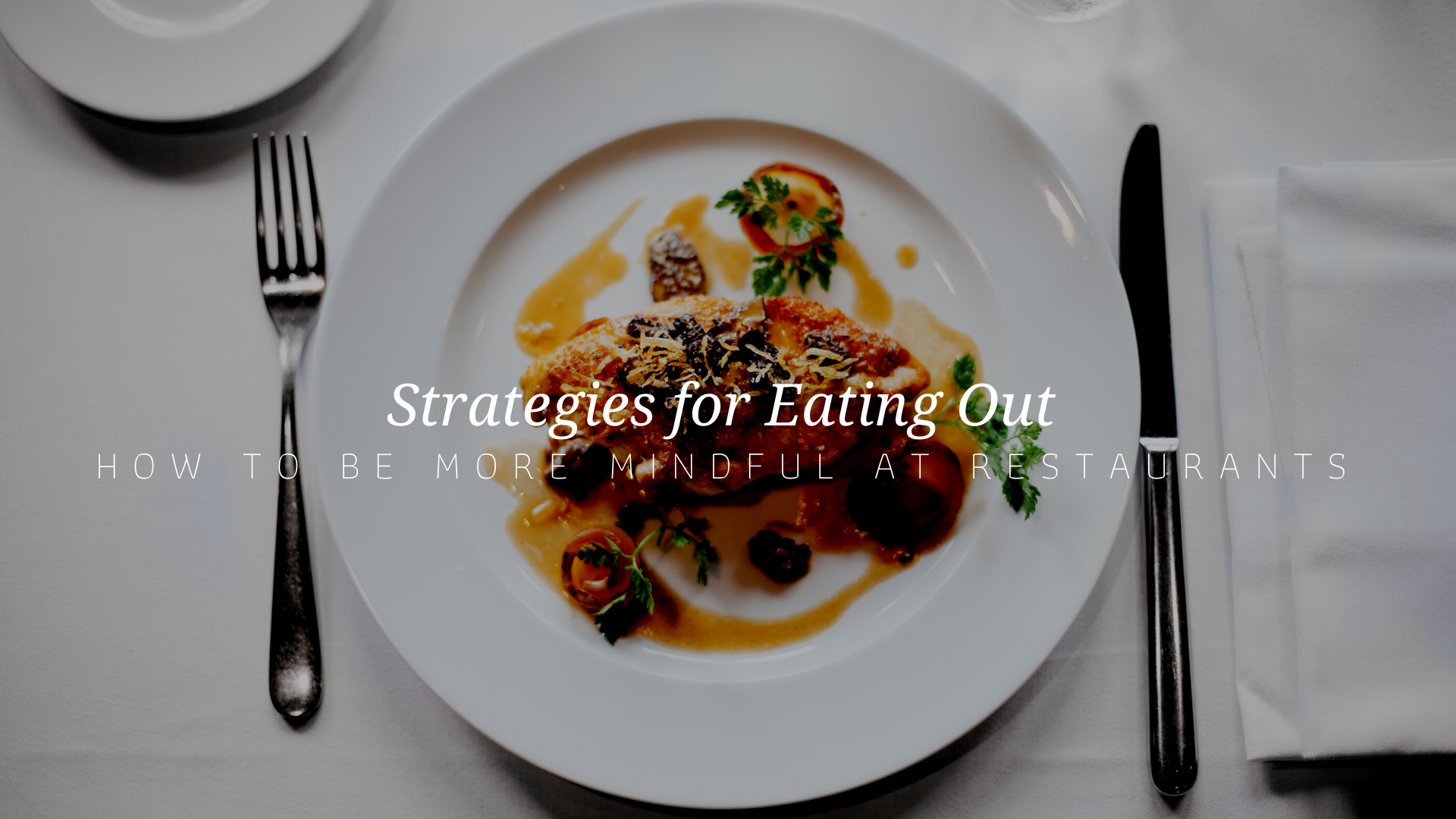 16 Jan

Strategies for Eating Out

The goal of most restaurants is to provide easy, inexpensive food that tastes and smells delicious. Often that means nutrition takes a back seat when dishes are laden with rich sauces, creamy dressings and lots of fried accompaniments with limited vegetables and whole grains.

Check out these tried and true strategies for sticking with your healthy eating plan when at a restaurant.
Plan ahead
Check out the menu in advance. Often you can find the full menu, including nutrition information online, so you can be ready to order beforehand – and not be tempted by your hunger or what your friends order.
If you are heading out to dinner, eat a lighter lunch. Or, if you have a big lunch, have a lighter dinner to offset it.
Make physical activity part of dining out. Park a bit further away or choose a restaurant in walking distance. Walking after your meal can aid with digestion
Watch portions
Portion sizes in restaurants can be twice or even 3 times bigger than what you would eat at home. When your meal comes, visualize a portion that you would eat at home and only eat that much. If easier, have the server remove the portion you won't be eating and wrap it for the next day. Or, move what you want to eat to your bread plate or ask for a second plate when your meal arrives.
Another option is to order two appetizers instead of a main course. That allows you to have variety without an overabundance of food.
Be deliberate with your order
Choose healthier choices from different food groups such as well sourced proteins, vegetables, fruits, and whole grains. Often entrée salads provide lots of vegetables, along with protein like grilled chicken or seafood as well as beans for fiber. Always ask for dressing on the side so you can control your portion. Often just dipping your fork in the dressing before each bite is enough to give you the taste without all the empty calories.
Choose as many vegetables as possible for sandwich toppings – lettuce, tomato, avocado and onions. For condiments, spicy mustard, relish or salsa are your best bets.
If nothing on the menu looks 'healthy' – check out the list of sides. Often you can get grilled vegetables, a side salad or baked potato from the side menu. Sometimes that makes a better meal than choosing the crispy chicken salad with Caesar dressing and croutons! Add some protein to your baked potato with chili and cheddar cheese.
Think of all you CAN eat!
Instead of thinking about all the things you can't have, think about all the delicious healthful items on the menu that you don't make at home. Choose dishes with vegetables, wild seafood, and healthy fats like olives, avocados, nuts and seeds. Look for lean, well sourced proteins like lamb, turkey, grass-fed beef, wild seafood and pasture raised chicken.
Don't starve yourself
Just because you are going out to dinner, don't starve yourself for the rest of the day. If you arrive famished, you know you will scarf down the hot, buttered bread as soon as it lands on the table! Instead, have a healthy snack, with protein, healthy fat and fiber, before you head out, so you save your appetite for the main event. If you are hungry when you arrive, order a broth-based soup or a salad to stave off your hunger.
Read between the lines
The goal of the menu is to make the dishes sound mouthwateringly delicious. However, knowing the less healthy terms, can help you understand how a dish is prepared. Choose grilled, broiled or steamed and avoid dishes that are fried, breaded, creamy, rich, smothered and cheesy.
Don't be afraid to ask
Remember, you are the customer. With so many dietary restrictions these days, servers are used to special requests. If a dish comes with fries, ask if you can have extra vegetables or a side salad. Ask for your vegetables to be sautéed with olive oil, garlic and salt, instead of a cream sauce or gravy. You can ask for light or no cheese or sauce. If you don't want the bread, ask it to be removed from the table, or immediately move it out of reach.
It's often possible to get an appetizer portion of a main dish if you ask. If you don't see something you can eat, ask if the chef can prepare something simple like grilled chicken or fish with steamed vegetables or over a salad (with the dressing on the side.)
No matter where you eat – Eat slowly. It can take up to 20 minutes for your stomach to signal to your brain that you are no longer hungry. If you eat too fast, you may overeat and become over-full. That can cause issues with digestion as well.
Going out to dinner doesn't have to be unhealthy. With some planning and savvy substitutions, you can order delicious and healthful meals without the cooking and cleaning! Don't be afraid to ask for what you want that fits within your dietary guidelines.