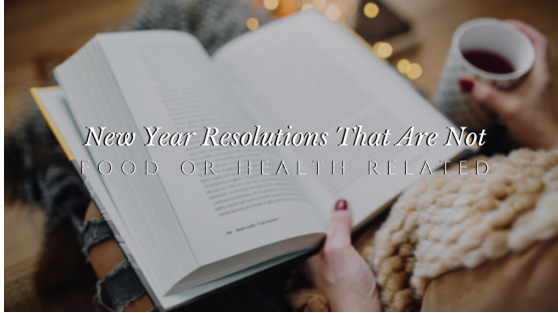 09 Jan

New Year Resolutions that Stick

How's your new year going? I'm sure your health and fitness goals are underway and you are making progress. Often we choose resolutions for things we've been struggling with for a while, like our weight or exercise. However, have you given any thought to resolutions for other areas of your life? Let's break out of the resolution rut and add activities that cover other things like fun, pleasure and personal development. Here are a few ideas!

– Book a bucket-list trip

Stop saying "someday" about the trips you want to take. Pick a place from your bucket list and book your trip in 2020.

– Conquer a fear

What scares you? Is it a fear of flying, public speaking, or even spiders. Smash the spider, so to speak – and tackle one of your fears. Think how good you will feel afterwards!

– Start a journal

Journaling is an amazing way to bring ideas to life, help you resolve issues that you replay again and again in your head, or to just record your thoughts for that book you want to write. Buy yourself a pretty journal and put your pen to paper. It's a great way to start off the new decade, plus it helps you acknowledge all that you've accomplished at the end of the year when you review it.

– Schedule a weekly meet-up with loved ones

Bring back the family dinner or plan a weekly gathering with friends or extended family. It doesn't have to be fancy or extravagant. Often the best events are the casual ones where everyone brings something, so no one needs to stress. Or, choose to do a fun activity together, like skiing, bowling or even a winter hike. The most important thing is to make time for the people who are important, rather than let another year fly by and think – I wish I had spent more time with my family and friends!

– Try a new hobby

Have you always wanted to knit? Paint? Learn to play Pickleball or learn a new language? Go for it! Trying new things helps keep your brain engaged and makes you happier. Whatever sparks your interest is worth pursuing. Go ahead and give it a try!

– Strive to read more

Reading is a great way to keep your mind sharp. Join a book club to make it more fun and to keep you accountable. I am a member of several book clubs and find it's a great way to build friendships and learn the perspectives of others. I'm always amazed at the enlightening conversations that stimulate deeper exploration on diverse topics.

– Explore a new cuisine

Are you bored making the same meals for dinner every week? Shake things up a bit by making dishes from a different culture. How about making an Indian curry, sushi or pad thai? Why not commit to making one new recipe each week or every other week to increase your recipe repertoire.

If one of your goals for 2020 is to cook more and try new recipes, please join our healthy recipe Facebook group, where you can share inspiration and fun with like-minded individuals.

This list, combined with your health and wellness resolutions, will have you experiencing a fun, fulfilling and fruitful 2020!

What are you most excited about in 2020?