15 Sep

Kick Your Cravings – Quickly!

Junk Food Junkie

When you think about food cravings, does some type of junk food come to mind? Is it something high in calories, low in nutrients and highly processed? What is your go-to craving potato chips? Ice cream? Chocolate? Mine is definitely something with rich, dark, gooey chocolate!

I believe in balance, and I enjoy my sweet treats now and again. The issue with eating a lot of processed foods is that they have been created in a lab with the intention of building an addiction. The food manufacturers want you to keep coming back for more, so they sell more products and make more money!

Mind Your Microbiome

If you feel like you are addicted to sugar and/or processed foods, I have good news. There are many foods you can add into your diet to balance your microbiome (gut bacteria) and get your good bacteria back to a healthy place. One great source is probiotic foods which which are filled with the beneficial bacteria your body needs to re-balance and help you fight off cravings.

Some great sources are:
Yogurt (without sugar), including nondairy coconut yogurt
Cheese made from raw milk
Sauerkraut (refrigerated, nonpasteurized) – Bubbies is a well known brand
Pickles (refrigerated, nonpasteurized) – Bubbies is a well known brand
Kefir, without added sugar (fermented milk drink)
Kombucha (effervescent cultured drink)
Kimchi (spicy Korean condiment)
Adding just one to three servings a day of the right probiotic foods will feed and nurture your healthy gut bacteria.  Which of these foods will you add into your diet this week to reduce your sugar and carb cravings?
Pro Probiotic
Taking a probiotic on a daily basis can help balance your gut bacteria as well. My personal favorite is Garden of Life Primal Defense Ultra.  It is a vegetarian, ultimate broad-spectrum whole food shelf-stable probiotic formula with 13 species of beneficial cultures. As with any supplement, do your own research to determine what's best for you.
Food Swaps for Popular Cravings
Another of my favorite ways to combat cravings is to crowd in healthier options and crowd out less healthy foods.
If you're craving potato chips… Try some raw carrot or celery sticks or dried seaweed snacks instead for that crunch.
If you're craving soda… Try some sparkling water such as La Croix. There are so many flavors to choose from;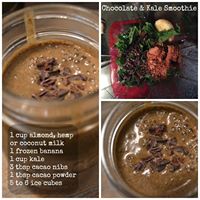 you're bound to find one you love. My personal favorite is Melon-Pomelo (aka Melon-Grapefruit).
If you're craving a milkshake… Try a green smoothie instead to quench your desire for something cold and sweet. Raw cacao in a green smoothie provides the perfect fix for my chocolate cravings. Check out one of my all-time favorite chocolate smoothie recipes here.
Stop After the First Few Bites
Another helpful tip is to indulge mindfully and take smaller portions. Usually, the first few bites are the best and may satisfy your craving. Teaching yourself restraint and how to indulge mindfully is an incredibly useful tool that will come in handy!
NEW WORKSHOP SERIES
You work hard to maintain your health. But are you ready to take it up a notch?
•    Have more energy
•    Look and feel younger
•    Improve your digestion and reduce bloating
•    Reduce your risk of predisposed conditions
•    Feel more vibrant and alive!
Are you ready to achieve YOUR Optimal Wellness? Join the Healthy Eating Workshop Series and learn new techniques and tools to take YOUR overall wellness to the next level. And maybe bring your family along for the ride too! The series is packed with information, recipes, techniques, hacks and more – to help you transform your health with your food choices.
The monthly series will be held at Pure Pilates in New Providence, with the first event "Real Food, Real Health for Real People on Tuesday, Oct 24th at 7:30pm. You have the option to attend as many or as few sessions as you would like. Register for the whole series and get nearly two sessions FREE! Space is limited, so please register early to ensure your spot.
Here's what clients are saying….
"Prior to working with Elizabeth, I thought I already knew a lot about food, but I learned so much more! She is credible, competent and extremely knowledgeable. My husband and I have changed our diets significantly since working with Elizabeth and feel fantastic. I highly recommend working with Elizabeth." Lisa DiSciullo, CPCC Parenting Matters