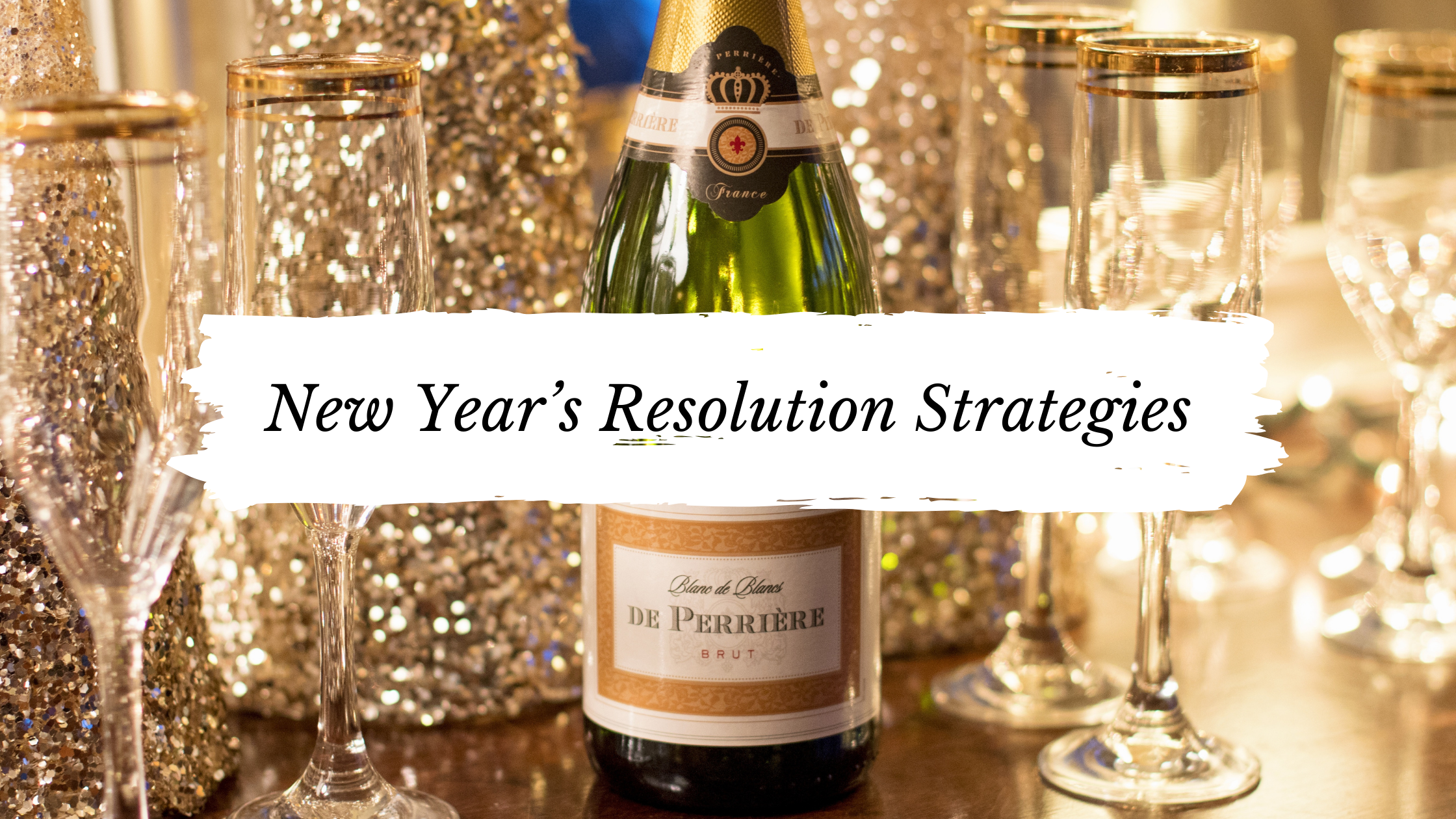 15 Dec

New Year's Resolution Strategies

It's that time of the year again!  Did you know that every January approximately 41 percent of Americans resolve to lose weight or get in shape?  But by January 30th, 95% of resolutions are dropped and most of us quickly go back to our old habits.  How can you establish meaningful and realistic resolutions you can achieve?  Here are some tips to set yourself up for success as you establish your new year's resolutions.

Ask yourself a few important questions to help determine and solidify your new year's resolutions.
Is there a specific area of my life I would like to improve?
What causes the most stress in my life?
If I could make a wish, what is the one thing I would change immediately about myself?
Once you have the answer to these questions, dig a bit deeper.
How do you want 2020 to be different from prior years?
How do you want to feel?
How do you want to behave?
How do you want to look?
And, the most important question of all:  Are you ready to take the steps necessary to change what is holding you back?  Read on for tips to determine, achieve and sustain your goals.
Write it down.  By simply writing down your intention – it allows your mind and body to connect, which increases your chances of success.  Include specifics of how you will achieve this – and celebrate each small success.
Break it down into manageable chunks.  For example, if your goal is to lose 30 pounds in 2015, figure out how you are going to do this.  Lose 1 pound / week for 30 weeks or 2 pounds / week for 15 weeks.
Identify the steps to achieve your goals.  For example, to lose 1 pound / week, I will have a green smoothie 4 times a week, instead of a bagel and cream cheese and exercise 3 times / week.  Then, put these steps into your calendar, so it is in your daily schedule.
Identify the source of the problem.  Why are you reaching for ice cream every night at 9 pm?  Is it the stress from work or from looking after the kids?  Is there a better way to manage the stress, to avoid this behavior each night?  Keep a journal and get in touch with what's causing this behavior – and when you identify the cause, devise a plan to address the root cause.
Visualize what success will look like.  How will achieving this goal benefit you and even your family?  Do you want to lose 30 pounds so you can keep up with your kids on the ski slope? Have more confidence?  Visualize yourself already having accomplished this goal – and it will keep you focused on the end result.
Find an accountability partner.  Studies have proven having a support group increases your likelihood of success many times over.  Your support group could be your spouse, family, friends, a group program or even a health coach.  When you tell others your goals, they become more real and tangible.  Having others who share similar goals can make the process much more fun – and helps you to stay on track.  If you know your friend is expecting to see you at the 9:15 spin class, you are more likely to attend.
At the end of the day, make your goals realistic and break them into manageable chunks so you will be successful.  Don't take an all or nothing attitude.  If you have a bad day or a bad week – don't let it derail your overall goals.  Just pick up where you left off – and get back on track.  You can do this – I know it!
Events & Programs
Want to start 2020 off feeling refreshed and energized?  Join the January Effortless 3 Day Reset! After one (or five) too many Christmas cookies and too many glasses of champagne on New Year's Eve, hit the Reset Button and start off 2020 feeling great!
It's time to start listening to your body and learning how you can improve your health and well-being!
We already have multiple sign-ups for the January program, so register now to guarantee your spot. If you aren't 100% sure if you can make the date, you can sign-up now and postpone until the February Reset (2/3/20) provided you let me know by 12/27. So what do you have to lose – other than mindless eating and belly bloat?!?
Join us now for the Effortless 3-Day Reset Program starting January 6th!
If you know someone who can benefit from this program, consider forwarding them this message. Or, give the gift of health and purchase one on his/her behalf!
Recipe
Green smoothies are one of my favorite ways to get back on track after overindulging a bit over the holidays.  Here is one of my all-time favorites – perfect for beginners.   Click here for my Choco Cherry Smoothie.
What's the rage with green smoothies?  They contain lots of vitamins and minerals, have a high fiber content, give your digestion a rest, keep you full longer, which staves off cravings and hunger and help to hydrate your body.  Why not start your day with several servings of your recommended daily allowance of vegetables?
I look forward to supporting you in 2020!
All the best for a Happy, Healthy New Year!
Elizabeth Girouard, CHHC