24 Nov

Nutritious and Delicious Pumpkin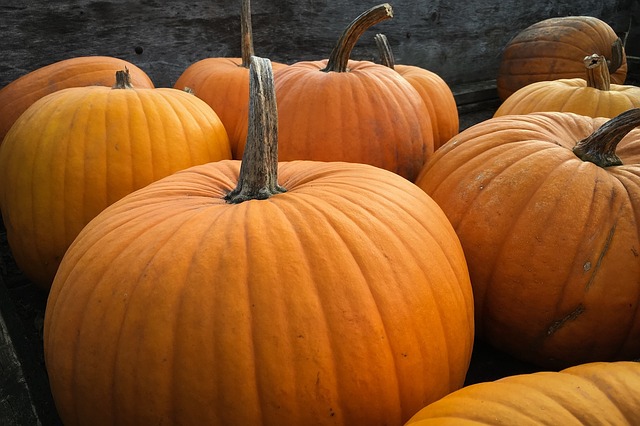 October is "Pumpkin Month"! Every day I see ads for another pumpkin flavored food! The good news is, if there is actually pumpkin in the food, there are health benefits.  (Just watch those foods laden with too much added sugar!)
Here are some of the health benefits from pumpkin:
Weight loss. Since pumpkin is full of fiber, it helps to slow down your digestion and keep your blood sugar stable. There are 7 grams of fiber in 1 cup of canned pumpkin, which is more fiber than in 2 slices of most whole grain breads!
Better vision. The bright orange color comes from beta carotene which is converted to Vitamin A in the body and is essential for eye health. One cup of canned pumpkin contains nearly 200% of the RDA for Vitamin A!
Improved immunity. The Vitamins A & C in pumpkin help your body to fight infections and viruses and the pumpkin oil can help fight bacteria and fungal infections.
Younger looking skin. The beta carotene helps protect your skin from UV rays and pumpkin can be used to make an all-natural

 

face mask.
Lower cancer risk. The Vitamins A&C are full of anti-oxidants which help to neutralize free radicals in your body which cause tissue and cellular damage.
Help diabetes. Preliminary studies in Japan have shown that pumpkin is effective in improving glucose tolerance and insulin resistance.
Pumpkin seeds. Don't throw away the seeds, as they are an excellent source of magnesium, zinc and healthy fats. They also are a good source of protein, with a one ounce serving containing nearly 9 grams of protein. Also, the skin of the seeds is edible and full of fiber.
Sources: Positivehealthwellness.com "Pumpkin Health Benefits". November 14, 2016 https://www.positivehealthwellness.com/diet-nutrition/pumpkin-health-benefits-ways-prepare/
PubMed.gov, Yadav M, et al. (2010). "Medicinal and biological potential of pumpkin: an updated review".Nutritional Research Review 23 (2): 184-90. www.ncbi.nlm.nih.gov/pubmed/21110905
Nutrition Data. Self.com, "Pumpkin, raw" http://nutritiondata.self.com/facts/vegetables-and-vegetable-products/2600/2
Recipe
Given the Pumpkin theme, here is my new and improved healthful version of a pumpkin latte. It includes real pumpkin, not just pumpkin flavoring! Why not get some of the health benefits above from your morning java.
Ingredients:
2/3 cup organic milk, warmed or steamed (or alternative milk like almond, cashew, hemp, coconut if dairy doesn't work for you)
1/3 cup organic coffee (or espresso), hot
1/4 cup canned pumpkin
½ teaspoon of pumpkin pie spice
3 drops of stevia (or ½ teaspoon of raw honey or pure maple syrup)
Instructions:
Put all ingredients in a blender (or shaker bottle) and blend for 30-45 seconds until the pumpkin is liquidized and the milk froths up.
Serve with a sprinkle of cinnamon or nutmeg on top. Enjoy!
Events
October 29th, 7:30 PM
Dreyer Farms in Cranford.
Greens, greens, glorious greens
! Join us for a salad and smoothie demo and tasting. Do you want to incorporate more greens into your daily routine? Join us to learn simple and delicious ways to add greens each and every day. Kid approved recipes! Call the farm at: 908-276-1290 to reserve your spot or respond to this email to rsvp!
January 
– Next guided, group
Healthy Eating Challenge
. The Fall group is experiencing great benefits. I'd love to see you begin your transformation with us in January! Stay tuned for more details….

I would love to add to my pumpkin recipe collection, so please forward on your favorites. I will 'clean them up' as needed!
Yours in pure simple wellness,
Elizabeth